In star-rated hotels, whether it is modern and simple, gorgeous European style or traditional, carpet is one of the indispensable floor materials. Through the carpet, the hotel can not only increase the beauty of its decoration, but also enhance the added value of hotel space art. Therefore, only by choosing a hotel carpet that fits the decoration style of your hotel can the charm of the carpet itself be fully exuded! So, how to choose the carpets of star hotels and what types are there? The following will reveal them one by one!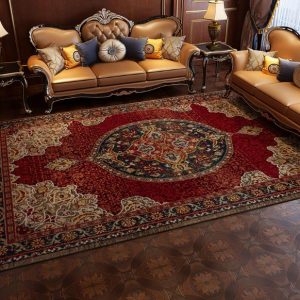 1. Handmade carpets
Handmade carpets are divided into two types: hand-gun thorn and hand-knotted carpets. Among them, hand-knotted carpets are often used for civilian use, so I won't elaborate on them here. Manual gun-punched carpet is made by artificially implanting carpet pile yarn into the bottom by manual or electric needle-punching gun, and then gluing. The pattern is easy to adjust, the color is not limited, the color is rich, and the three-dimensional effect is strong. It can produce higher pile height and density, and has the comfort of hand-knotted carpet. It is suitable for both civil and engineering.
There are many materials for handmade carpets, from high to low quality: New Zealand wool, domestic wool, chemical fiber.
2. Acme Carpet
The full name of Axmin Carpet is Axminster Carpet. Its loom is originally produced in England and has a history of more than 100 years. The biggest feature of the carpet produced by this equipment is that it can be up to 8 colors or more, the pattern cycle has no size limit, the pattern is rich, the color is colorful, and the high-end atmosphere. Due to its excellent selection of materials, excellent weaving technology, and excellent stability of the finished carpet, it is the first choice for high-end hotels, hotels, clubs, guest rooms, aisles and public areas, and is a high-end product among all kinds of machine-made carpets.
3. Printed carpet
The printed carpet is produced by using the carpet loom to produce the original white carpet, and then printing and dyeing on the printing machine.
The product has the characteristics of flexible patterns and bright colors. The new type of printing machine does not even have a limit on the number of colors. This product is suitable for use in hotels and hotels in any area. Since the surface of conventional printed carpets mostly use nylon materials, the wear resistance of the carpet is exceptionally superior, the service life of the carpet can be prolonged, and the use cost of the carpet can be reduced. In addition, due to the low moisture content of nylon fiber, it can achieve the effect of easy washing and quick drying during the cleaning process.