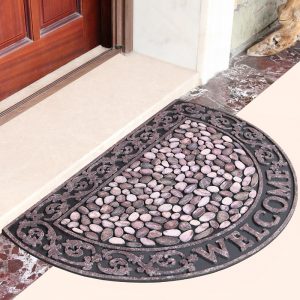 | | |
| --- | --- |
| Product Name: | Carpets And Living Room Mat,Coir Door Mat,Kitchen Floor Mat,Rubber Door Mat made in China |
| Material: | Wool / Polyester or Customized |
| pattern: | Hand-made |
| Color: | Customized |
| Modular Size(w x 1): | Customized |
| Pile Height: | 10-12mm / Customiezd |
| Pile Weight: | 4.5 lbsor Customiezd |
| Backing | 67% Cutton , 33% Polyester fiber |
| Dimensional Stability: | Warranted not to change in size by more than 2.0mm under normal use |
| Delivery Time: | 25-35 days upon the deposit, please double check, when or ordering. |
| Applications: | Home,Office, Airport,Hotel, Meeting Room, Public Areas,Commercial areas |
| Port: | Shanghai,Guangdong,Shenzhen,Ningbo,Qindao |
The mat is a product that can effectively scrape off the mud and water at the entrance and keep the indoor floor tidy. It is flexible and soft, and feels comfortable on the feet. Unique anti-ultraviolet additives prevent fading and embrittlement, and can withstand outdoor environments exposed to sunlight and rain.
Generally speaking, the ground can be divided into soft ground and hard ground, soft ground refers to carpets, etc., hard ground refers to floor tiles, wooden floors, etc., and doormats are a new product between soft ground and hard ground. It is mainly used in many high-end places such as hotels, guesthouses, restaurants, office buildings, etc. The area of soft ground in some high-end places accounts for more than 75% of the total ground area, which has also achieved a unique corporate image display of these places. Style, so the maintenance and protection of soft ground is particularly important. If the main function of the carpet is decoration, then the function of the doormat is more practical. In addition to the decoration function like the carpet, the doormat is responsible for dust removal, water absorption, mud removal, and anti-slip tasks from the moment you enter the door. It also has the function of anti-fatigue and anti-static in the occasion.