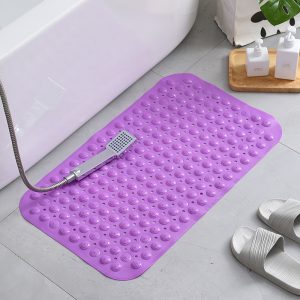 Product name
Bathroom Mats
Brand
3G MAT
Material
100% good quality PVC,health,eco-friendly
Thickness
10mm-17mm
Size
Width0.6m or 0.9m or 1.22m length6-20m<per your requirement>
Place of Origin
Zhejiang
Color
Red, green, blue, black, brown, yellow, purple, grey, pink, 

orange, coffee

Packing
inside: PE film;outside: woven bag or according to your demand
Delivery Time
1-3weeks after getting the deposit
Feature
1.Tubes provide excellent comfort and support underfoot.
2.Easy to roll up and clean.
3.Simply be cut to any size or shape required.
4.Anti-slip, waterproof, cheaper prices, eco-friendly, soft, no smell.
5.Keep the floor clean, dry and safety
Production capacity
3 big factories can satisfy any kinds of order 
Advantage
non-slip, moisture-proof, anti-fatigue,remove noise, 

easy clean,good flatness, hardness, cost-effective.

USE
outdoor,indoor,hallway,bathroom,entrance door,Kitchen,

Balcony,bar,swimming pool
Anti-slip mat, as the name suggests, refers to a mat that prevents sliding. Anti-slip mats are usually made of polymer materials such as PVC soft glue, AB glue, rubber, PU, ​​ordinary silica gel, etc., and the bottom is flat. Because the polymer has strong adsorption capacity, it can play a non-slip effect. Anti-slip mats are classified according to their functions, including mobile phone anti-slip mats, car anti-slip mats, bathroom anti-slip mats, stair anti-slip mats, yoga anti-slip mats, carpet anti-slip mats, toolbox anti-slip mats, cup anti-slip mats, etc.; according to materials, they can be divided into: rubber Anti-slip mats, PVC anti-slip mats, PU anti-slip mats, AB rubber anti-slip mats, silicone anti-slip mats, magic rubber anti-slip mats, etc. Non-slip mat material made of PVC1. Put the anti-skid pad on the dashboard of the car, it is non-sticky, non-reflective, does not damage the dashboard, and has super adhesion. Put any items such as mobile phones, cigarettes, pens, coins, glasses, etc. on it, even if it is a sudden brake Or strong vibration will not slip off.2. The non-slip mat developed by special PVC material is soft and flexible, and the anti-slip effect is better.3. It can be washed directly with water to remove the dust on the non-slip mat, and it can be used repeatedly.4. The shape can be customized according to the customer's requirements, and the pattern is beautiful and generous.