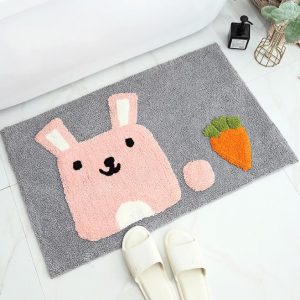 Front material: flocking material
Bottom material: TPR non-slip bottom/latex bottom
Size: 40*60cm, 45*65cm, 50*80cm
Weight: 1514 g/㎡
Style: Cartoon
Flocking material, large-capacity water absorption, to achieve the effect of instant separation of dry and wet. High-density weaving, thick and compact pile, quick-drying effect. Single-needle single-thread winding and knitting process, machine washable and hand wash, no hair loss. Non-slip hot-melt rubber bottom, good adhesion to the ground, peace of mind when using.
Door mat material
Nylon: Good abrasion resistance, easy to clean, but easy to deform, easy to generate static electricity, and will be partially dissolved in fire.
Polyester: abrasion resistance is second only to nylon, heat and light fast.
Polypropylene: light weight, good elasticity, high strength; abundant raw materials, good wear resistance and low price.
Acrylic: soft, warm and elastic; soft texture, soft color, not easy to shed hair, anti-slip design on the back; but not strong water absorption, poor wear resistance.
Pure cotton: pure cotton material, good water absorption; good plasticity, can be changed in different three-dimensional design, easy to clean; can be used with anti-slip pads.
Superfine fiber: The water absorption is 1.5-2 times that of pure cotton, and the fiber fineness is 1/10 of pure cotton; the touch is softer than pure cotton, the fiber density is extremely small, it is not easy to adhere to dirt, and the maintenance and cleaning are more convenient.
Coconut fiber: Recycled from natural coconut fiber; environmentally friendly and durable, with natural color and colorful printing; it can effectively scrape the soles of sand, dirt-resistant and easy to clean.
Rubber flocking: good drainage, light fastness, toughness, durability, beauty, and long service life; it not only has the anti-slip function, but also effectively helps to scrape the sole of the sole, and is very convenient to clean.